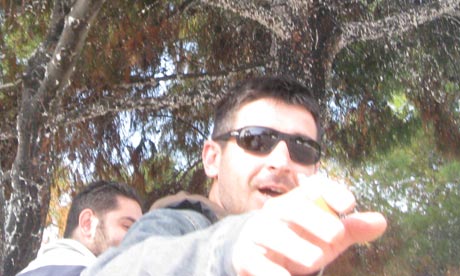 The Bilderberg Group met last weekend. This lot take their name after the hotel where they first met. As anyone who has read books like Jon Ronson's
Them
will know, the Bilderbergers are seen by some as the secret rulers of the world. Certainly they seem to include some very influential world figures, and they seem also to be surprisingly secretive. There was no live blogging or Twitter feed coming from Bilderberg attendees. The likelihood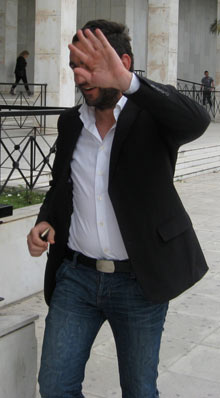 is that no public figure will admit to having attended the Bilderberg meeting.
Charlie Skelton has been writing about trying to cover Bilderberg for the Guardian
. Getting wind that the event was taking place in Greece, near Athens, he flew out to check it out. He then spent the next few days being followed by undercover policemen (pictured) and having his hotel room repeatedly broken into. Skelton comes across as primarily a humour writer, and his unsuccessful attempts to take photographs of Bilderberg attendees and to shake off his obvious tails are pretty funny, as is his increasingly frazzled mental state. But his writing begs some obvious questions. Like, why are Bilderberg meetings so secret? I know that these days it is impossible for two important people to meet for a cup of coffee without a load of crusties showing up to protest against them, but, even so, the veil of total secrecy that surrounds Bilderberg seems a bit obsessive. The fear of protesters is all very well, but it does not even explain the retrospective secrecy about Bilderberg meetings – the non-disclosure by attendees that they were even at this obviously important gathering. This goes a bit further – if Skelton could find out about this event then so could the media generally, so why were there not loads of proper journalists in Greece to cover this meeting of the great and the good?
One thing you hear about Bilderberg meetings is that they only take place in hotels with golf courses. I wonder if any have ever been held in Ireland?